"We Take Care of Us!": The Genesis of Non-Police Alternatives for Crisis Intervention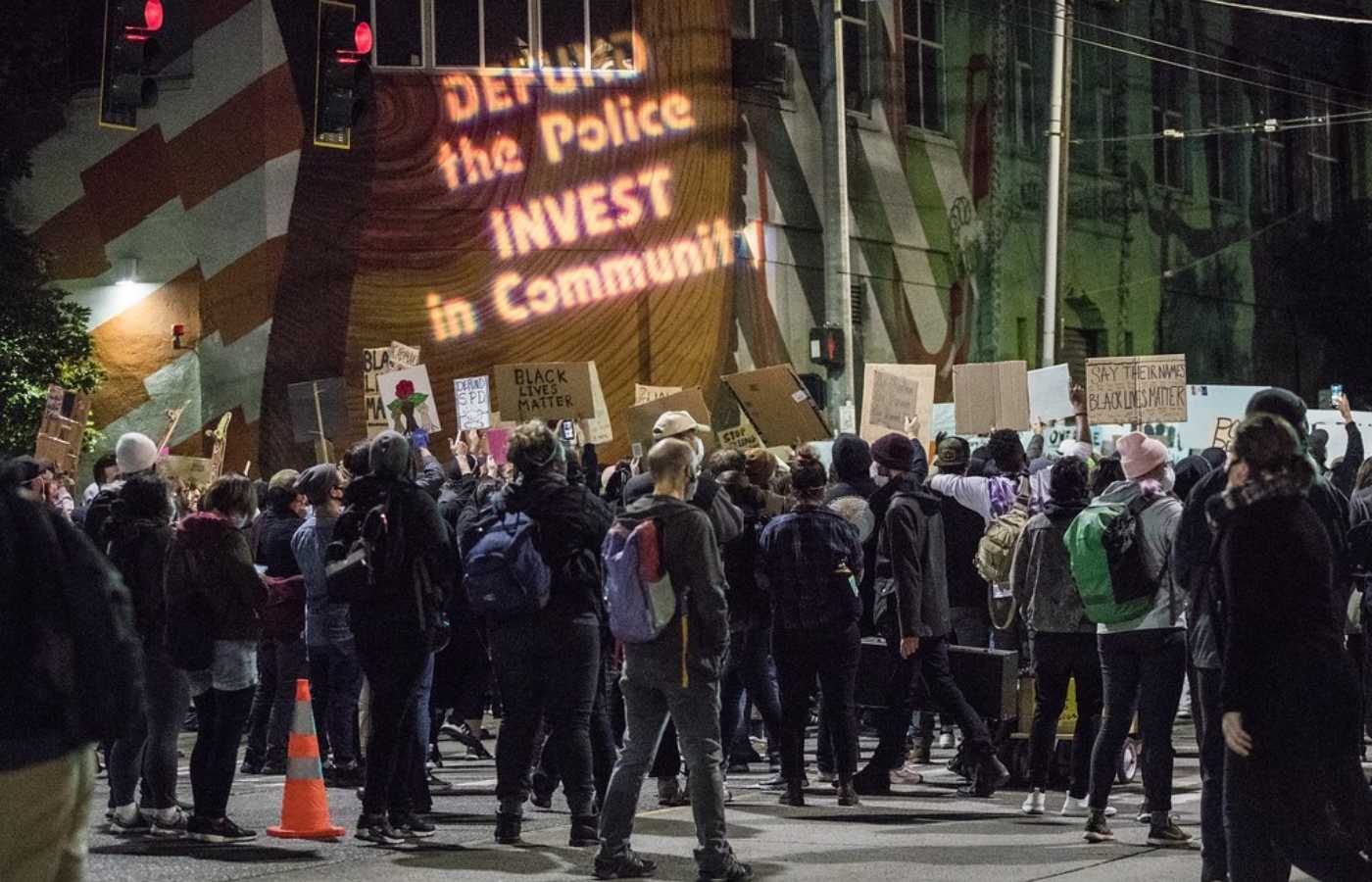 In April of this year, police were dispatched to a Walmart in San Leandro, California, on word that a would-be shoplifter was "acting erratically." With his body-cam activated, the first officer to arrive on scene immediately approached the alleged suspect. Steven Taylor, a 33-year-old Black man with a history of schizophrenia and bipolar disorder, stood near the entry of the store clutching an aluminum baseball bat. "Drop the bat, man!" the officer shouted as he unsuccessfully tried to wrest it from Taylor's hands. As Taylor broke free, the officer drew his stun gun and fired. Taylor, dazed by a direct hit, staggered backward. Inexplicably, the officer then fired his pistol at Taylor, who collapsed to the floor.
"Watching that video, I was like, there's 500 things me and two other people could have done–without weapons–to deescalate the situation," a critical-care nurse and activist named Asantewaa Boykin later recounted.
The killing of Steven Taylor illustrates the harm of society's default response to "erratic behavior." In the United States, people with serious mental health conditions are 16 times more likely to be killed in encounters with police than the broader population. Black men with mental health conditions, in particular, face a heightened risk when in the midst of a psychiatric emergency. Like Daniel Prude, Walter Wallace, Jr., and countless others, Taylor found himself in a knot of injustice: in need of compassionate care but instead treated as a criminal threat.
Spurred by this summer's uprising against police violence, elected officials around the country have begun advancing alternative, non-punitive models of crisis intervention. House Democrats introduced The Mental Health Justice Act, which would direct the Department of Justice to create "mental health first responder units" through the Substance Abuse and Mental Health Services Administration (SAMHSA). A comparable bill was introduced by Senate Democrats. While President-elect Biden has expressed support for the underlying concept of "non-police mental health response," there's little likelihood of passage through a Republican-controlled or 50-50 Senate. California was poised to enact state-level reform this year that would have empowered community organizations to provide "culturally informed and appropriate responses to immediate emergency situations." But on the final day of the legislative cycle, Governor Gavin Newsom vetoed the so-called C.R.I.S.E.S. Act with only a vague explanation, though left the door open to revisiting the issue in 2021.
Despite lags at the federal and state levels, some local efforts to "civilianize" first response have gotten off the ground. In Oakland, where more than 40 percent of the general-purpose budget goes to policing, the city council this summer earmarked $1.4 million for a pilot program called the Mobile Assistance Crisis Responders of Oakland. While MACRO will be staffed by unarmed medical personnel and social workers, it retains some trappings of law enforcement. The initial coverage area will be dictated by recent crime data. Staff will carry police radios, which means they'll be required to pass background checks. Those whose lives have been most impacted by police violence—and by decades of lackluster police responsiveness—may consequently be cut off from serving on MACRO's response team. And if Oakland opts to route MACRO's calls through 9-1-1, a portal to overreaction, will communities with a deep distrust of law enforcement call for help?
Skepticism of putatively progressive allies in government—and of politics writ large—has led some activists to seek their own solutions. One of the organizations that stood to gain from the C.R.I.S.E.S. Act was MH (Mental Health) First, the brainchild of Asantewaa Boykin and others. Run out of Sacramento—though on hold during the pandemic—Boykin has trained dozens of regular people to serve as communal responders. Working in teams of three, MH First's volunteers dispatch to homes, homeless encampments, street corners, or wherever summoned. They put themselves forward as a true alternative to police, offering "non-punitive and life-affirming interventions."
To that end, MH First operates under a consent-based model. There are no patients, only "participants." When someone calls its hotline, to report a mental health crisis, adverse drug interaction, or domestic violence episode, MH First works assiduously to bring the participant along each step of the response. No one is ever advised not to call the police, but MH First's volunteers will never do so themselves. Once on scene, a member of the team races to the participant and stays with them from beginning to end, counseling with nonviolent communication and, if requested, ushering the person to safety. A medical professional steps in as needed—whether to attend to wounds or administer Naloxone, a medication that reverses opioid overdoses. A "safety liaison" holds out at the perimeter, trained to de-escalate confrontations.
This communal care model puts into practice a perennial vision of Black-led social movements. From the Freedmen's Bureau to the Black Panthers to the Movement for Black Lives, organizers have not just sought to shrink the power of violent institutions like the police, but to build institutions of their own. Angela Davis has called this work "abolition democracy." The contemporary demand to "defund the police" springs from this same vision; while the slogan emphasizes dismantlement (and has thus has been subject to demagoguery and co-option), the heart of the matter is radically constructive.
Notably, the oldest non-police crisis response in the U.S. started as a community policing initiative. Thirty years later, Oregon's CAHOOTS, which operates out of a holistic health clinic in the town of Eugene, is nearly self-sufficient. Teams of EMTs and mental-health counselors carry out a wide variety of streetside interventions, from providing basic medical care to welfare checks. Last year, out of a total of 24,000 calls, the mobile response teams requested police backup only 250 times. One of the organization's directors, Tim Black, told me he views CAHOOTS as "transitional"—that is, an incremental step toward a world that no longer relies on police. (In addition to advising Oakland on its MACRO plan, Black and his colleagues have been instrumental in helping other cities, including Denver, Colorado, develop similar dispatch systems.)
Progressive politicians may be able to make common cause with believers in abolitionist democracy. But any lasting alliance would require an honest reckoning with the broken promises of past liberal-minded reformers—and in particular, the failure to bring about equitable, universal mental health care. In the 1960s, when states (beginning with California) closed their psychiatric asylums, there was no corresponding investment in humane alternatives. Rather, deinstitutionalization coincided with a shearing of the social safety net through privatization and austerity, aided and abetted by Republicans and Democrats alike. Abolitionist scholar Ruth Wilson Gilmore calls this a period of "organized abandonment." In this way, mental health care cannot be disaggregated from the other ways that poor people—especially Black, Brown, and Indigeneous communities—have been systematically denied basic shelter, clean water, and good jobs, let alone access to intergenerational wealth. Therefore, abolitionists see dismantlement of the prison-industrial complex as inseparable from expanding networks of mutual aid.
Thus, on the question of here-and-now interventions, abolitionist and non-abolitionist reformers seem to agree on the fierce urgency of preventing the next Steven Taylor, Daniel Prude, or Walter Wallace, Jr. But on the question of whether such interventions are an end in themselves or a small gesture toward abolition democracy, there is a wide gulf. The reformist imagination presumes that police and prisons serve essential, inviolable functions. The abolitionist imagination prescribes a full-scale reorientation of society, where communities find redress through transformative forms of accountability. Is this vision utopian?[1] As a call-and-response chant from this summer's protests suggests, a new world is in fact at hand:
"Who takes care of us?"
"We take care of us!"
[1] "Defund the Police projections in Seattle" by Backbone Campaign is licensed with CC BY 2.0. To view a copy of this license, visit https://creativecommons.org/licenses/by/2.0/